Scoresheet
You can take this handy scoresheet to lanes to keep track of all the details of your game - stance, target, pinfall, etc. That way, when you get home, you'll have all the information you need to enter your scores into BowlSK. Here's an example of how to use the scoresheet: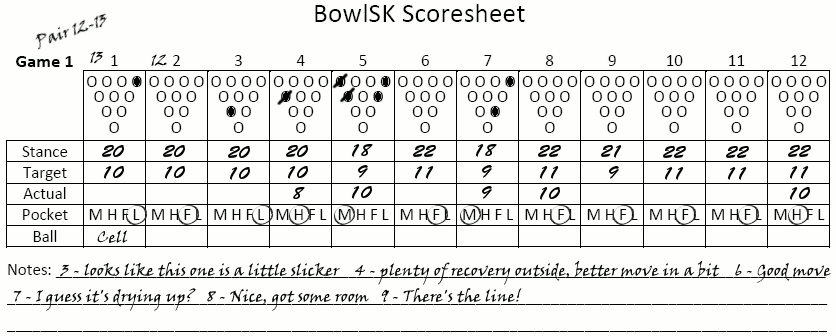 Wow, that looks pretty complex. It's not so bad though - let's go from the top down:
Looks like this game is on lanes 12 and 13. Started on lane 13.
We've filled in the circles where a pin was left on the first ball. If we miss one on the spare attempt, mark a line through it. For example, in the 5th frame, the Big Four was left, and only the 6-10 was picked up, leaving the 4-7 on the deck.
Stance and target are filled in for each frame, and the actual board hit is only filled in if the target was missed.
The type of pocket hit is marked for each frame

M - Missed
H - High
F - Flush
L - Light

The ball is filled in in the first frame only. Why? It's the only ball I used, and I didn't feel like writing it 12 times! If you change balls, or use a different ball on each lane, you can track it here.
Some various notes are filled in, to keep my head straight while bowling and also to give me a better picture of how the entire set went when I am looking back at a later date.
Do you have a mobile device with a web browser? Try navigating to BowlSK at the lanes and entering your scores in real time!